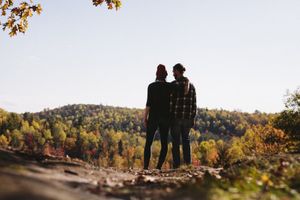 As Valentine's Day approaches many of us experience anxiety around finding the perfect gift for our beloved. Scouring store shelves to find just the right card or gift, we encounter items that seem lackluster and cliched. What if there was a way to really know our partners and help them to feel really loved on a deep level each day? Listening is the answer. 
"Listening?" You might think. "I already listen to my honey." Authentic listening is a learned skill. It is not listening for a break in the conversation so you can jump in and share your latest anecdote about the guy you saw wearing snorkeling gear and flippers at the grocery store. It is not hearing a complaint and responding with your 19 point defense. True listening is not nodding your head and mumbling "uh-huh's" while scrolling through your Facebook Newsfeed on your phone. 
Authentic listening offers our loved ones a chance to be heard. Having someone intently focus on what we are saying to understand what is being conveyed, makes us feel loved. 
Truly listening deepens connections. As humans we feel more connected to people that understand us even if they do not always agree with us. 
Listening saves time and pain. When we really take a few extra minutes to hear what people are saying, we gather more correct data points. Instead of half-listening and hearing part of what is said, we hear the grocery list, the directions to the party, or the warning that the stove is still hot. 
So how does one listen authentically? Here are some steps to listening based on the work of Harville Hendrix the creator of The Couple's Dialogue and the Imago Method. 
Create an environment free of distractions. 

Invite your partner to share thoughts with you. Let them know you are trying a new way to listen. Let them know you will be reflecting back what you heard. Ask them to keep the dialogue manageable. 

Focus only on what your partner is saying and the feelings they are conveying. 

When they are finished, repeat back what you heard them say. It is ok to paraphrase. This is not the time to interpret what you heard into your own words. 

After paraphrasing what you heard, ask "did I get that right?". 

This is where your partner has a chance to clarify if you did not get what they said quite right. 

Listen again and then paraphrase what you heard. Repeat these steps until your partner lets you know you got it right. 

Validate what they are saying even if you do not agree with what has been said. This step can be challenging but is part of the gift of listening. One way to show validation is to use phrases like "That makes sense to me as you say____". 

Offer statements of understanding and empathy. An example of a way to communicate empathy is "I can imagine that _______ was ______ for you". 

If your partner is feels really heard they may be willing to switch and be the listener at this point. 
Note: It is important to be aware that you may have strong feelings come up while your partner is talking. Mentally set those feelings aside and bring your awareness back to what is being said. You will be able to express your feelings when it is your turn to be the sender. Remember, listening is a gift for your partner; it is not about you when you are listening. 
Giving the gift of listening does not mean your darling will never want another token of your love on a holiday such as Valentine's Day. Listening does help us to be more on point with what gifts our partners would appreciate. For example you might have decided on the King Kong sized box of chocolate covered caramels to show your love on February 14th yet after listening to your partner, you learn that he decided to give up sugar this year and that he dislikes chewy foods that get stuck in his teeth. You also learned that he feels most loved when he receives personalized hand-made gifts. Listening is like having an owner's manual to your loved one's taste and desires. Helping your belle or beau feel deeply loved and understood beats heart shaped boxes of chocolate and overpriced roses anyday.

Tracey Ashcraft, MA, LPC is a Licensed Professional Counselor and Coach. She has helped hundreds of people improve their relationships.To set up your free phone consultation call 303-668-5995 or click here.