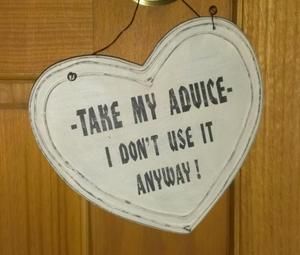 A friend gave me this sign when I graduated from my counseling program. It was the perfect gift for a budding private practice therapist/coach. It is a reminder not to take myself too seriously.

When life gets hard it can be easy to take things too seriously. Learning to laugh at yourself can shift things instantly. It may seem counter-intuitive to laugh at yourself when so many hours have been spent on striving for perfection. Somewhere along the way on life we may have been taught to show our best to the people we meet.  "What will the neighbors think? Clean up this mess. It reflects poorly on me. Never let them see you sweat."  These statements reinforce the message that we need to strive for perfection to be liked, accepted, and respected. Since no one can actually achieve perfection, it tends to be disappointing work. Mistakes and blunders become painfully humiliating if we let them be. 

Giving yourself permission to laugh at yourself can be liberating. Since we are destined to screw up, look foolish, or miss the mark, it is far easier to allow yourself to be human when it happens. Let go and laugh. 

You can practice laughing at yourself when you are alone too. Take last week. I was getting ready for work. I checked out my curling-iron handy work and thought- "This is going to be a good hair day." I reached in the cabinet for the can of hairspray and went to town on my coiffed locks. It didn't register at first what was happening. My hair didn't have the hold it usually gets from the hairspray. The scent was different too. As my brain started to register these subtleties, I glanced at the can in my hand. To my horror I saw, not Suave Professional Hair spray but the jumbo sized can of Lysol aerosol. Yikes! I laughed so hard I had to tell others. I posted my blunder on Facebook and received an onslaught of fun comments and stories of others mishaps in return. You know it's going to be a good day when your hair is sanitized!

Laughing at ourselves actually brings us closer to others. It gives people permission to be human around you. You are no longer a stuffed shirt trying to be perfect. If you notice you are taking yourself too seriously, just remember at least you didn't spray Lysol on your hair! 

I would love to hear from you. Please share your comments and stories here of laughing at yourself. 

Tracey Ashcraft is a confidence coach and over the past 10 years has helped hundreds of people live their best lives.  Click here to work with her.