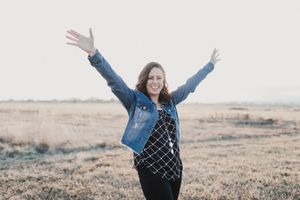 Did I read that right? Screw New Year's Resolutions? But what do I do with all these good intentions? Don't worry; I am not suggesting you throw the baby out with the bathwater. I want you to imagine what would your life be like if you really did the best you could in each moment instead of setting yourself up for failure. 
Think about it. Instead of vowing: to exercise 2 hours a day, quit smoking, eat nothing but fish and veggies, God forbid give up bacon, organize the house, keep the car washed once a week, pay all the bills on time; what if you allowed yourself to live more fully in the present? What if we are all ok just as we are? 
Ok, so maybe you could live a healthier lifestyle and maybe the dust-bunnies in your house have dust-bunny babies. Instead of setting ourselves up for failure in 2019, I challenge you to accept yourself where you are now. Each day, try to do your best in any given moment. Let go of self-judgment. Quit the perfection trap. It doesn't work. Instead of giving up all the foods you love or driving yourself so hard at the gym the first day that you never go back, try being accepting of the positive things you are doing. 
• Congratulate yourself on parking farther away from the store than next to the shopping cart stand. 
• Smile at yourself when you eat one slice of bacon with your breakfast instead of 5. 
• Be happy when you recognize that watching movies all day in your pj's is exactly what you needed that day. 
• Start to believe it when you tell yourself, "I am good enough and I am doing the best that I can today." 
• Be proud of the de-cluttering the kitchen junk drawer even if every other drawer in your home is a "junk drawer." 
• Enjoy having your car washed on your birthday and the 4th of July whether it needs it or not. 
• Allow yourself to linger over coffee, look around in that funky vintage shop you always walk by, read a light book for pleasure, laugh with friends. 
So this year, don't make the resolutions you probably won't keep. Notice all the good things you are already doing and once in a while add in some new ones. Now repeat after me, "I am good enough! I am doing the best I can today!" 
Tracey Ashcraft is a licensed professional counselor & confidence coach and over the past 10 years has helped hundreds of people live their best lives. Click here to learn more about how she can help you live more boldly!