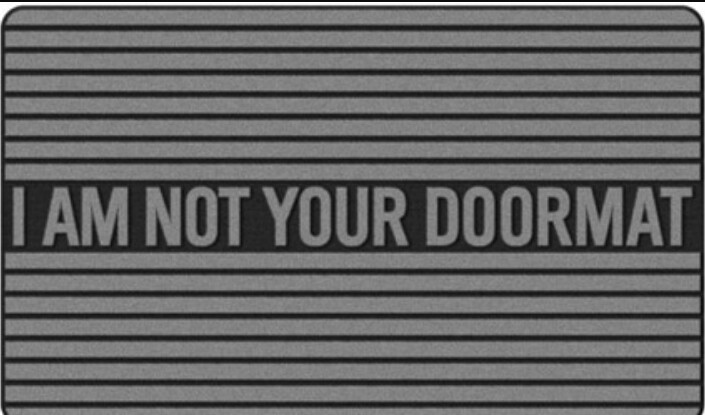 In kindergarten we were taught to be nice to others. As we grew older we were taught to not be self-centered and to think of others. As humans we tend to enjoy the company of others, especially if they are being nice to us. So when does "being nice" cross into the more harmful "too nice"? If you are feeling like a doormat, being taken advantage of, or feeling manipulated then you may have fallen into a coping pattern of being too nice.  
How do I know if I am being too nice?
Take the quiz here:
I often let others choose the movie or the restaurant.

When someone asks me to do a favor I have a hard time saying no.

I have a hard time making decisions or knowing what I really like.

I have a hard time asking for help.

I find myself saying "I'm sorry" a lot even if I really didn't do something wrong.

When someone pays me a compliment I brush it off.

I feel used by others but I am afraid to say anything for fear of a negative reaction.

I would rather go along with the crowd than be alone.

I have noticed that no matter how much I do for others I often feel it is never good enough.

It feels more appropriate to do things for others than for myself. I tend to feel guilty if I do things for myself.  
If you answered yes to 3 or more of these questions you may be "too nice" or a people pleaser. This coping pattern may have started early on in your life. You may have felt the need to please a parent in order to feel loved. You may have felt the need to keep the peace at home by going along with what others wanted.  Or you may have felt like there were people in your family whose needs were more important than your own. Whatever the reason you developed the people pleaser or too nice pattern, it is important to know that it has some harmful consequences.  
People pleasers / too nice people get taken advantage of, bullied, manipulated and abused. They usually end up on the short end of the stick through a divorce. They feel resentment that they are doing more than their fair share. They are vulnerable to depression. They may get into debt while "rescuing" family members. Being too nice may lead to doing things one doesn't want to do.  
In another blog post I will talk about how to "kick" the too nice habit. In the mean time if you are tired of being walked on then give me a call. We can talk over a free consultation and see how you can reclaim yourself today.

Tracey Ashcraft, MA, LPC is a Licensed Professional Counselor and Coach. She has helped hundreds of people to break free of people pleasing and stop being "too nice". As a result these people are learning to take better care of themselves and are enjoying more fulfilling relationships and happier lives. To set up your free phone consultation call 303-668-5995 or drop us a line here.